Anthony came down from Tulsa and the pressure was on. I had not really found the fish this year.
We started out at the Texas City Dike and it was too windy to fish. I really did not want the waves to be splashing in my face ALL day.
We drove around towards the spillway and talked to a game warden. He hadn't heard of many either.
We decided to head home and spend time with MOMMY and head out later in the day towards the Port Lavaca area.
Glad we DID! Mommy treated us to some medium rare juicy rib eye's. UM! Around 5 we headed out.
Everywhere we went was packed with people. We really did not feel like messing with unexperienced people.
We did stop at a new pier I found in Indianola and fished in the DARK without lights. No issues, the FULL moon gave us plenty of light and
we had bought some cap lights on the cheap. At this pier we had the craziest run you can imaged. I thought it was a bird at first but it wasn't.
It took about 50 yards of line and moved the bait about 100 yards left to right. Sad that we missed that one. Around midnight we head to the City Pier in port Lavaca.
Now there was room. Everybody had left except for a few. 15 minutes after we had set up Anthony hooks up with this one.
38 inches long and a fighter. Not BAD for the first BIG fish of the year.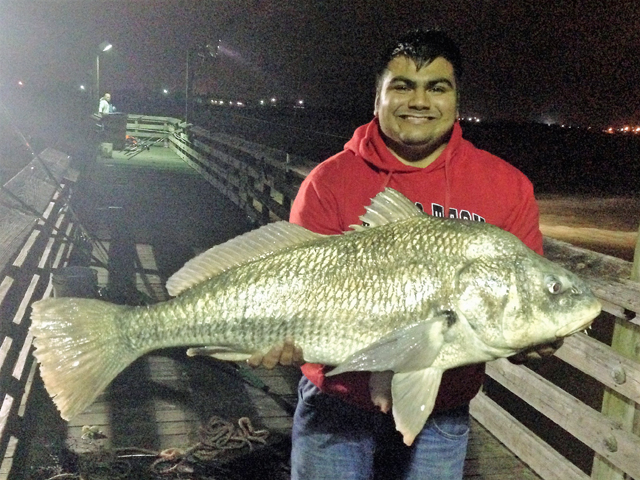 With hardly any wind and nobody on the pier Anthony breaks out the fly rod. He was after the fish under the lights chasing the bait fish.
I thought they were trout. But I was WRONG!
Check out this 18" redfish on the Fly rod. Nice little fish.