Drum-Master's™
2017
Over $250 $350 Starting CASH Pool
Plus - Trophies, Prizes and Early Bird Bonus
Entry: $20 Adult / 2 Kids Enter FREE w/ Paid Adult Entry
All Entry fees go into the CASH Pool!
Fish 24/7 Anywhere and Anytime Day or Night!
Runs Valentine's Day (2/14) thru Tax Day Weekend (4/16)
Longest Black Drum WINS! / C.P.R. Tournament
Anywhere in TEXAS! / All TPWD Rules Apply
Email: Drum Master if you have any questions.
Good LUCK and GOD Bless!
CLICK below for complete
RULES, ENTRY Form & Information
Tournament Sponsored by
CATCHINGBIGFISH.NET
Support our sponsors by clicking on the links BELOW:
Trophy's Sponsored by
Trendsetter T's
Bonus Raffle Reel Sponsored by
Seapony Bait and Tackle, Winnie Texas

Kid's Prizes + $50 cash Sponsored by
Hooked Up Fishing Tackle

Monster List Early Bird Bonus Prizes -$50 / $25 Sponsored by
Thee Anderson's Family
Remodeling & New Construction

Kid's Starting POT - $100 CASH Sponsored by
Mr. John "SharkChum" Riley
LONGEST Fish Caught on TEXAS CITY DIKE Bonus - $100 CASH Sponsored by
BOYD'S ONESTOP
TCD Division
Winner
Billy Stelzer
41-3/8 Inches
3/5/17
Cut Crab
TCD - Texas City, Texas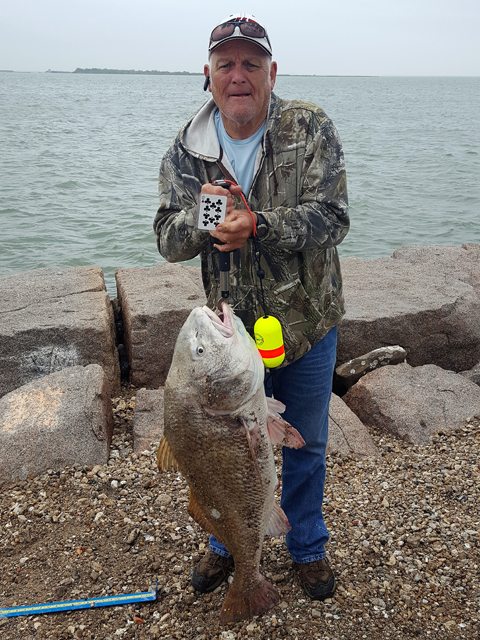 ---
Want to BUY Leaders with OVER 1,000 documented CATCHES
of fish over 36 inches LONG?
GET them HERE!
CATCH-A-LOT™ Series Leaders!
Current Tournament Members get 10% OFF their order!
---
CatchingBigFish is Complete
for this tournament!
Here are the Winners!
Adult Division
1st Place
Jason Jenkins
43-1/2 Inches
4/11/17
Whole Crab
GISP - Lamar, Texas

Children's Division
1st Place
Trey Salazar
44-1/4 Inches
4/1/17
Whole Crab
ICW - Sargent, Texas

Adult Division
2nd Place
Greg Pineda
42-1/2 Inches
2/20/17
Whole Crab
Clem's Pier - Flour Bluff, Texas

Children's Division
2nd Place
Zachary Resendez
41-1/2 Inches
3/11/17
Half Crab
ICW - Sargent, Texas

Adult Division
3rd Place
Ricardo Castillo Jr.
41-1/2 Inches
2/25/17
Whole Crab
Charlies Pasture - Port Aransas, Texas

Children's Division
3rd Place
Ruben Salazar
39-3/4 Inches
3/22/15
Whole Crab
Texas City Dike - Texas City, Texas